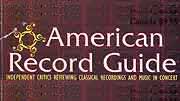 Larrie Howard: Violin
Michael Chertock: Piano
Frank Proto: Double Bass
Red Mark Records CD 9228
Frank Proto's music for all possible combinations has been much recorded over the years. This disc may explain why. To begin with, it shows an effective blend of classical and jazz styles that is very pleasant; and Proto is a fine player in both idioms, as is pianist Chertock. So I follow his compositions with interest, and this disc is a fine place to start.
The opening sonata is particularly effective, but the 1967 Duo is just as attractive and quite a major work, lasting over 20 minutes. A bass quartet is a tour de force, particularly when played by Proto with himself. And the disc closes with a short but pithy piano suite with baroque dance titles but not in baroque style. This is an enjoyable collection of his early chamber music. Not the least of its attractions is extensive and chatty liner notes by the composer-performer, written with considerable wit and humor.
David Moore
American Record Guide
Back to Feature Presentation
---

Larrie Howard: Violin
Michael Chertock: Piano
Frank Proto: Double Bass
Red Mark Records CD 9228
In this retrospective recording of four of his pieces from the 1960s, Proto shows that his earliest work as a composer is both relevant and interesting forty years after it was written. In the extensive narrative of the liner notes, the reader is treated to an intimate account of how the late, great, David Walter helped to alter the course of Proto's career by pushing him into writing his first large scale work for his student recital (the Sonata 1963 for Double Bass and Piano). There is also a vivid account of how Walter had to finesse the Manhattan School of Music's administration to allow a student double bass recital to occur, and of the standing room only crowd who was privileged to witness this groundbreaking concert. The notes then continue to detail how this piece led to the composition of the other pieces on this recording: Duo No. 1 for Violin and Double Bass, Quartet for Double Basses, and Suite for Piano.
Already a classic in the solo repertoire, the Sonata 1963 is the first piece of this recording. Partially inspired by Bill Evans and Scott LaFaro, both Proto and Chertock convincingly straddle the stylistic lines between the 'legit' and jazz feels that make this piece a particular challenge. The Duo No. 1 for Violin and Double Bass is beautifully performed by both Proto and Howard and is by turns thrilling and mesmerizing.
Somehow, Proto manages to perform all four parts in his rhythmically and harmonically challenging Quartet for Basses. What is particularly noteworthy is that the sense of urgency and excitement that one would expect to hear in a good live performance is preserved in this multi-tracked studio recording.
The Suite for Piano (which was premiered by Lise Blondin, who would later become Proto's wife) began life as an assignment from Proto's first composition instructor. The piece is a short four-movement dance suite for solo piano.
It seems almost superfluous to detail the high quality of the recording and the performances on this disk. Proto has had a diverse career that has included success as a symphonic bassist, chamber and solo musician, jazz performer, composer, conductor, pianist and publisher. This CD is yet another testament to his prodigious abilities. The double bass community is so fortunate to have a major composer who can also really play the instrument, and it is a true pleasure to hear Proto performing his own music.
Sandor Ostlund
Bassworld
Back to Feature Presentation
---

Larrie Howard: Violin
Michael Chertock: Piano
Frank Proto: Double Bass
Red Mark Records CD 9228
Frank Proto (b. 1941) is a wonderfully versatile double bassist who was inspired not just by Miles Davis and Dizzy Gillespie but also by the inventiveness of the legendary jazz pianist Bill Evans. By the 1960s Proto was penning his own compositions, of which the beautifully varied Sonata of 1963 is an attractive example. The easy, blues-like feel of the Molto Adagio permits the wistful, plaintive tones of this alluring solo player to shine. Proto's lulling melody line and emotive harmonics conjure up their own magic, while the surrounding movements come alive with their vividly contrasting moods.
Yet more beguiling is the striking dialogue between violin and double bass launching Duo No. 1, as well as the work's mysterious Adagio, where anxiety and serenity seem to intertwine amid violin double-stopping, restless bass pizzicato and weeping harmonics. The impassioned, initally folksy last movement features some nice Stravinsky-like interplay, with sprightly contributions from both Proto and Larrie Howard, some wan and impassioned solo writing for each and a chatty cadenza passage for the bass.
The Quartet for Basses (multi-tracked, with Proto taking all parts magnificently), was part inspired by a similar work by Gunther Schuller. Proto unveils some heated agitato passages before a fascinating, densely argued Adagio, abetted by some airy pizzicato touches. His equally elegant Suite for Piano offers a chance for pianist Michael Chertock to tease out an almost impressionistic take on the 18th-century Sarabande and Minuet, culminating in a dazzling Gigue. The Red Mark recorded sound is pleasing and advantageous.
Roderic Dunnett
The Strad
Back to Feature Presentation
---

Larrie Howard: Violin
Michael Chertock: Piano
Frank Proto: Double Bass
Red Mark Records CD 9228
This retrospective of early works by Frank Proto reveals that his inspirational career as performer, composer, and recently social and political satirist, has its roots in the heady days of 1960s New York. Working the city on piano first, and bass second, Proto was there when Bill Evans, Scott LaFaro and Paul Motian played the legendary dates at the Vanguard, influencing his style for ever. He was there when the double bass became a solo instrument in its own right at the Manhattan School of Music; giving the first ever double bass recital at the MSM, in defiance of the administrations's objections. In doing so, he put down a mark for others to follow. Encouraged and supported by his similarly iconoclastic bass teacher David Walter, Proto has purposefully re-established the lost classical tradition of composer as performer.
Sonata 1963 for Double Bass and Piano, written for that ground-breaking recital, is now part of the standard repertoire. But in this recording we hear the composer himself showing just what he means by rubato and espressivo, how far boundaries can be stretched. Copying every nuance of Proto's interpretation would of course be as egregious as a straight, unswung version, but as a guide to style and feel this CD will prove invaluable to the jazz-fearing community.
Duo No. 1 for Violin and Double Bass is the recently-published third incarnation of Proto's 1967 work, written for the duo partnership of David Walter and his then wife, Janet Spicer. Published in 1974 with the pair's revisions, this version restores some original material, particularly a long, improvised bass solo. Proto's inventive, fluent bass playing is here complemented by the violin heroics of Larrie Howard.
The Quartet for Basses features a multi-tracked Proto masterfully hogging all four parts himself in a technique reminiscent of his first hearing of the work via a Sony multi-track tape recorder. Like the Schuller Quartet which inspired it, this work deserves more frequent performance.
Hard-won composition lessons with Nicholas Flagello resulted in Suite for the Piano (1964). This fresh take on traditional 18th-century dance styles is articulately performed by Cincinnati Symphony principal keyboardist Michael Chertock.
Iain Crawford
Double Bassist
Back to Feature Presentation