Frank Proto, double bass
Tim Berens, guitar
Red Mark DVD
It isn't often enough that we get our hands on a recording featuring the guitar and double bass as a duo. The intertwining of the timbre and color of each instrument transports the listener. And because Two Sessions is a DVD, the still images of famous paintings by Dali, Goya and Matres that pop up intermittently add to the artistic experience and convey the emotional message with maximum force.
The two protagonists of this marvelous DVD, Frank Proto and Tim Berens, are world class artists and true masters of their instruments. I have to confess that I only knew Frank through his extremely popular and inspired compositions for the double bass but in this DVD, Frank reveals himself as a highly accomplished bassist who negotiates the instrument with flair, accuracy and total control over the entire range of the bass. In Two Sessions, Frank and Tim delight us with their music-making in two of the most popular genres, classical music and jazz, one session dedicated to each.
For most of session one, we are immersed in the richness of Latin rhythm and harmony, with works written by Manuel de Falla, Enrique Granados, Alberto Ginastera, Mario Castenuovo-Tedesco and even the Toreador Song from Proto's popular Carmen Fantasy arranged for guitar and bass. The two musicians complement each other perfectly and their communication is flawless, something we usually experience with string quartets that have performed together for years. Their masterful use of dynamics bring the colors in the still images to even more vivid life. In session two, Frank and Tim treat us to a variety of jazz standards. The change of style and character of the music from one session to the next is seamless, proving once again the high caliber of musicianship defining both artists. They play with great swing and sense of rhythm, and their improvised solos are enriched with true melodic lines and not just typical jazz language patterns.
There is a wealth of information in the extras included with the DVD, where both Frank and Tim luxuriously provide details regarding the works recorded as well as biographical data. This is not only a DVD for bass players who avidly collect new recordings, but also a true gem for any and all music lovers who appreciate music making at the highest level.
Catalin Rotaru
Bass World
Back to Feature Presentation
---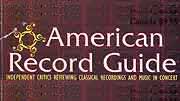 Frank Proto, double bass
Tim Berens, guitar
Red Mark DVD 200311
This is a performance video that is full to the brim with unlisted material. Where to begin? Frank Proto is a well-known composer as well as a fine player on the double bass in both classical and jazz. Tim Berens is a guitarist with a somewhat similar background, though less a composer than an arranger. They have worked together on many occasions and are well worth seeing.
These sessions are just that - not concerts, though they are played on stages. There are no written liner notes, just a list of the composers on the back of the box, not in the order of performance. For details, one needs to access the detailed notes and bios listed under Features.
Session 1 is "serious" music while Session 2 is jazz. Keep in mind that they are played by only guitar and double bass. The first progrm contains the Miller's Dance from Manuel de Falla's Three-cornered Hat, The Toreador Song from Proto's Carmen Fantasy, Villa-Los's 'Choro No. 1', one of Granados's Goyescas, Miguel Llobet's 'Noi de la Mare' (an arrangement of a Catalan folk song), a Tarantella by Castelnuovo-Tedesco, a section of Ginastera's Variaciones Concertantes played as an introduction to Luis Bonfa's 'Gentle Rain', and one of Proto's 'Lessons for Solo Bass.' Session 2 includes Django Reinhardt's 'Nuages', Cole Porter's 'I Love You', Gershwin's 'My Man's Gone Now', Miles Davis's 'All Blues', Ernesto de Curtis's 'Come Back to Sorrento', Sigmund Romberg's 'Softly as in a Morning Sunrise', Billy Strayhorn's 'Lush Life', Raymond Scott's 'Powerhouse', and Ernie Burnett's 'Melancholy Baby'.
All of these pieces are arranged an performed with individuality by these two masters of musical expression. One should not expect to hear the composer's original so much as an interpretation of it with affection. The videos vary. Session 1 alternates pictures of the protagonists with scenic representations of country suggested by the music, mostly in the form of colored graphics but sometimes beautiful photographs, as in the Villa Lobos. Session 2 sticks closer to the players, since jazz is a visual as well as sonic experience, moving to photographs at the end of numbers. Session 1 is about 45 minutes long, Session 2, 53 minutes.
But that's not all you get by a long shot. Under Features you get bios of both players, program notes by both players, Credits and four Catalog Samples. Why am I telling you this? Because every (extra) track also contains either complete pieces or considerable excerpts from works by Proto. The four catalog samples are of François Rabbath playing Proto's Double Bass Concerto No. 2, Afro-American Fragments by the Ensemble Sans Frontière, a 10-minute movement from the Sextet for Clarinet and Strings and a considerable scene from the opera Shadowboxer, on the life of Joe Louis. It all adds up to over an hour of extras.
The end result of all this is that you end up knowing a great deal more of Frank Proto's capabilities than you may have before. Yes, some of the material is less complete than we might prefer, but if you have any interest in his music or in jazz, this will turn you on to the many possibilities that are out there. I find Proto's talents inspiring in the realm of playing, composing, and as a person; and I am very happy to have this video of his many activities. I am also glad to have met Tim Berens, whose artistic playing and arranging talents are also displyed to advantage here. There is much more to this disc than two fine playing sessions.
David Moore
American Record Guide
Back to Feature Presentation