Frank Proto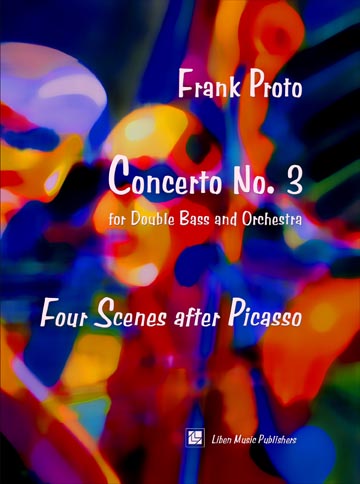 Four Scenes after Picasso
Concerto No. 3
for Double Bass and Orchestra
Special 40th Anniversary Edition
The Concerto No. 3 for Double Bass and Orchestra was the fourth work composed by Frank Proto for François Rabbath. This newly-edited piano reduction makes it practical, for the first time, serious study and performance by the advanced performer. This major, 30-minute work for the double bass is a musical interpretation of four of Picasso's War-time paintings.

Four Scenes after Picasso is playable in both orchestra and solo tuning.

Hear François Rabbath's world premiere recording on the special Red Mark CD-Plus.
See Program notes
See Reviews
See Review of Printed Edition
Go to Chamber Music Catalog
to purchase this item
Click to view or download a PDF sample of the music