with Libretto by the composer.
Carmen Balthrop:
Voice
Rick VanMatre:
Clarinet and Saxophone
Frank Proto:
Double Bass
Charles Holmond:
Director
Red Mark Records DV 200301
Frank Proto is an American double-bass player and composer in his sixties who for thirty years played in the Cincinnati Symphony Orchestra. He has written a lot of music, including 3 Double-Bass Concertos, and these two issues of which the first is a CD (Five Divertimenti for Solo Violin) and the second a DVD reveal quite clearly that he is a natural, gifted composer with something distinctive and worthwhile to say.
The Profanation of Hubert J. Fort is a music-theatre piece for three musicians: a Mezzo who is also an actress, playing a policewoman and a judge, and two instrumentalists who are also characterised by their playing. It is an original and brilliantly successful allegory about the excesses of a future totalitarian dictatorship, amusing and provocative and drawing upon a wide range of styles, including atonality, minimalism and bebop, which are held together by the commitment of the performers and by the composer's unerring sense of proportion. This DVD staging of the World Premiere performance is simple yet most effective and I loved every minute of it. I should very much like to hear more of this interesting composer's work.
Robert Matthew-Walker
Musical Opinion Magazine
---

From the beginning of his career, Frank Proto established himself as an untiring proponent of the bass and a champion of eclectic, label-defying music. Not content to settle for the image of the bass as "an instrument only a mother could love," Proto's Liben Music has enhanced the instrument's profile and reached out to larger audiences through accessible, poly-stylistic and multi-media works.
True to form, Libens's new DVD The Profanation of Hubert J. Fort: An Allegory in Four Scenes continues Proto's tradition of "genre-bending." Part theater piece, part political satire, Profanation walks the line between jazz and classical, between opera and concert music, between comedy and commentary. The politically themed multi-media work is a 50-minute long music drama for three musician/actors. Using musical, visual and narrative elements, it entertains and stimulates, and reaching out beyond the bass community for its audience.
Proto himself calls the work an experiment, and it is a welcome one. Profanation sets out in an entertaining, interesting direction - that of staged concert music. It is a niche that is in tune with our increasingly visually orientated culture. Given a visual component, contemporary audiences are both more involved in a performance and much more open minded about the music that goes into their ears. Indeed, the visual and narrative elements of the work draw in the audience and help to hold our attention for a relatively long work.
Hubert J. Fort is the paranoid leader of an uncultured, ignorant, neo-fascist government. It is a land where artistic expression is heavily regulated and most instruments are banned (humorously, the "double bass" has escaped the list of banned instruments through a semantic technicality). Proto creates plot, characterization and atmosphere using largely non-verbal means. While the highly effective Carmen Balthrop covers several speaking and singing roles, the characters played by Proto and clarinetist/saxophonist Rick VanMatre "speak" only through their instruments.
The story follows the arrest, trial and imprisonment of two musicians for violation of the National Banned Creations Act and "association with known subversives" (clarinetists!). During their farcical trial, they are not allowed to speak and are treated as an inconvenience by' the smarmy prosecutor and the vain judge. After their conviction, the two are sentenced to Aga Montuna (an angram reference to Guantanamo) where they must drearily perform mind-numbing exercises in minimalist patterns. Proto's satirical world of the "Purity in Harmony Committee" and the "New Age Minimalist and Muzak Work Camps" draws laughs from the audience. In a typical outburst, Balthrop's character exclaims: "I'll not have my court disrupted by 'of all things' witnesses!"
Proto and his colleagues are effective as both musicians and actors, and his evocative music creates a sense of atmosphere throughout. The music runs the gamut from the high, lonely "night music" of the work's opening to the unctuous, aggressive saxophone characterization of the prosecutor. Carmen Balthrop is particularly entertaining and engaging in all her varied incarnations. The music itself is an eclectic blend of jazz, classical and contemporary music. Though taking on a mostly subservient role to the plot, the music consistently conveys a sense of atmosphere and occasionally rises to prominence. The postlude in particular has a haunting song-like quality that stands out from the work as a whole. The most effective music inhabits a Coltrane-esque world where chromatic harmonies mingle with contemporary classical language, in an accessible, appealing stylistic mélange. Because the music is serving the plot, Proto has more leeway in stretching musical boundaries and using abstract musical language than a mainstream concert composer might have.
The DVD is a recording of the work's premiere at the 2003 ISB Convention in Richmond, Virginia and translates very well to the medium. The sound is resonant and well blended and the picture is clear, preserving the understated but beautiful simplicity of the staging. In addition to the actual performance, the DVD has bios, program notes and a behind the scenes look at the genesis of the work. It maintains the sense of intimacy with the performers that the Richmond audience felt.
The work left me wanting more exploration of the evocative textures, colors, and stylistic mixtures that work so well in the piece. The characters and satire lack subtlety at times, and the recitative-like sung sections sometimes stretch to cover a great deal of textual ground. Above all, Profanation is entertainment and maintains a healthy sense of humor about itself throughout. While it may not play well in some political circles, The Profanation of Hubert J. Fort is an appealing experiment in a new direction that largely pays off.
Peter Askim
Bassworld
---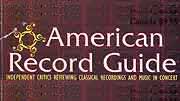 Frank Proto (b. 1941) is a well-known composer and bassist who has done a lot to break down barriers of all kinds. Here he tackles several. Profanation was written for a bass conference, and it is a concert performance that we see and hear. It is sort of a chamber opera in four scenes, text by the composer, where we are thrust into a sort of Brave New World with overtones of 1984, Fahrenheit 451 and whatever other science fiction stories you feel may apply. Mr. Fort is in charge and has forbidden the clarinet and all possibly salacious elements in music. He would forbid the double bass too, but it is listed under another name, so calling it a double bass gets it by the censor - at least for the moment. The singer is various authority figures and keeps being seduced into song, though she tries to keep away from such sensual modes of expression. The clarinet is a clarinet and the saxophone a cop. There is a crime (playing with the bass), an arrest, a trial, and finally, a scene in the rehab center after years of imprisonment, where clarinet and bass are forced to practice minimalist New-Age music incessantly.
As you see, the concept is full of little in-jokes set in a curious bare stage with the instrumentalists communicating entirely through playing. The idiom is basically jazz and imitations of speech patterns, many of them improvised by the performers on the spot. Performances would vary a good deal. This one is quite touching in places, since Balthrop has a beautiful voice that lends itself to jazz inflections in a warmly sensual way. VanMatre plays with great sensitivity also and is a highly irritating policeman in his saxophone role. And Proto is his usual highly effective self. The text is a little slow-moving in places, and hearing everything through a single voice is a little hard on suspension of disbelief. One gets tired of the hectoring tone necessary to put it across. But these moments are not the crux of the matter, and I find myself favorably disposed towards the project and admiring the performers, even while feeling that the subject could have been treated with more drama and subtlety.
As extras, we have a 10-minute lecture explaining the origins of the piece and another section with bios of the performers and a nicely detailed listing of Proto's compositions. All in all, it's an unusual and mainly enjoyable production.
David Moore
American Record Guide
Back to Feature Presentation