New Edition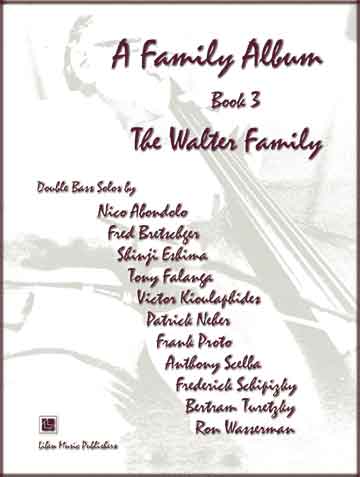 A Family Album - Book 3
The Walter Family
A volume of Double Bass solos
by Bassist/Composers honoring their teacher
David Walter

Now Playing: If it's Tuesday it must be Up-bow by Shinji Eshima


For a complete listing of all titles and composers in the Family Album series
click here.
David Walter is one of those gifted teachers who has had a great effect on the lives of many of those who were lucky enough to study with him. The group of individuals participating in this latest Family Album decided to say a collective thank you to a man who has given us so much more than what we were contracting for when we showed up for our first lesson. We wanted to learn about the bass. But David had other ideas. The notes and rhythms were only the starting point for what was on his musical agenda.
From the Preface.
The pieces included in this album were all written by performing bassists. As with the original Family Album and the Family Album - Book 2, the pieces here represent a wide sampling of the musical spectrum. The music in this volume is as diverse as the passions and vigor of its dedicatee.
See Reviews

Meet the Family
Nico Abondolo
Fred Bretschger
Shinji Eshima
Tony Falanga
Victor Kioulaphides
Patrick Neher
Frank Proto
Anthony Scelba
Frederick Schipizky
Bertram Turetzky
Ron Wasserman

And
David Walter

We wish to thank especially Barrie Kostein of Kolstein Music for his generous support in helping to bring this new edition to life.

Go to Chamber Music Catalog
to purchase this item

Click to view or download a PDF sample of the Music