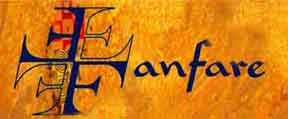 Three Episodes from Ghost in Machine
for Oboe/English Horn, Double Bass and Piano
The Creatures in Room 642
for Narrator, Trumpet, Percussion and Double Bass
Four Rogues
for Double Bass and Piano
Lessons
for Solo Double Bass:
Red Mark Records CD 9222 (67:00)
The performers here often sound as though they'd like to be playing jazz, and sometimes sound their best when they do. "It's Too Late for Love," an episode from Ghost in Machine, is a beautiful ballad, led by English horn, with slow, sophisticated support from Proto's full and expressively bowed bass, and Michael chertock's questing piano figuration. Maria Speziale's trumpet takes a cool strut downtown with "Carlo" from Room 642, while in Rogues, effectively a sonata for bass and piano, the composer/soloist coaxes swinging, sinuous lines from his big-bellied beast of an instrument.
Frank Proto, now in his sixties, frames the jazz with sections more reminiscent of the modernist or impressionist heritage of the 20th century, but his references go a good deal further back than that. The final unaccompanied Lessons engage with Beethoven, specifically with double-bass figures from the Fifth and Ninth Symphonies. Like everything on the CD, there is charm, wit, affection and feeling in this hommage, as well as great virtuosity and tonal control. The last 25 minutes of bowed-bass music make for really compelling listening if you have a taste for the approachable mix of genres, and the same goes for the more varied ensemble work in Ghost in Machine. At times, we are in straight ECM territory, but Proto's passionate playing gives his solo work some of the range we associate with the great cellists. There's some fantastic play with mixed pizzicato and bowed colors in the third of the Rogue pieces, a kind of loose, jazzy, Bartok effect.
In the middle of the CD comes The Creatures in Room 642. This is a humorous, narrated suite about miscreants and characters in and out of school. Characters are portrayed by the instruments; narration is high-class and expert, courtesy of TV and film actress Jessicia Walter, the daughter of Proto's teacher, David Walter. She has a great voice and truly gives it her all, but this work, written for in-school use, may have a more limited lasting appeal. I think she pulls it off, thanks to some hot playing from the group. Recordings are from various times and places, but they all sound, or have been made to sound, excellent. The lonely phrases at the start of Ghost in Machine seem real, and in your room. Some symphonies get by with less thematic goods than we pick up here in the first 30 seconds. Proto keeps everything moving, changing, and sometimes swinging. It's a very subtle blend, with some of the responsiveness of small-ensemble jazz transferred to straight chamber playing, and a touch of vice-versa. Two hearings and you're hooked.
Recommended
Paul Ingram
Fanfare
---

Three Episodes from Ghost in Machine
for Oboe/English Horn, Double Bass and Piano
The Creatures in Room 642
for Narrator, Trumpet, Percussion and Double Bass
Four Rogues
for Double Bass and Piano
Lessons
for Solo Double Bass:
Red Mark Records CD 9222
Regular readers may recall my recent reviews of music by the American composer and double-bass player Frank Proto, the CD of Five Divertimenti for solo violin, and a DVD of his music-theatre piece 'The Profanation of Hubert J. Fort'. Here is the latest release in this Red Mark series, and I have been as equally impressed by it as I was of the earlier issues.
Proto is a fascinating composer. I can understand those who may feel that, initially, he has little to offer, but as each piece progresses it becomes ever more compelling and I have no doubt that Proto is a genuine and individual voice who deserves a much wider audience than he has had hitherto. It may also be that, as a double-bass player, he will often score his music for rather odd instrumental combinations, thus reducing the chances of performances, but I strongly commend this music to you. It is really good. The last movement of 'Three Episodes from Ghost in Machine', in a genuinely expressive soft jazz style, is a superb piece of music, outstandingly well played by the oboist Christopher Philpotts, with the composer and Michael Chertock, piano. Each work is varied, and well worth the attention of the enquiring music-lover and devotee of American music. The informative booklet notes are by Jonathan D. Kramer.
Robert Matthew-Walker
Musical Opinion Magazine
---

Jessicia Walter
Narrator
Marie Speziale
Trumpet
Christopher Philpotts
Oboe and English Horn
Michael Chertock
Piano
William Platt
Percussion
Frank Proto
Double Bass
Red Mark Records CD 9222
As often happens with new music, the recording for this music has come out nearly concurrently with the parts and scores for two of the pieces found on the CD. Because the music and recording are so closely related, this review will cover both the CD and the sheet music for the two pieces found on the disk.
The Three Episodes from Ghost in Machine (for oboe/English horn, double bass and piano) are adaptations taken from the orchestral piece composed and performed in collaboration with John Chenault, Cleo Laine, Paul Winfield and the Cincinnati Symphony. According to the liner notes, Three Episodes from Ghost in Machine was inspired by Proto's reflections on the racism and inequality he has witnessed in his life. The opening movement is a short, almost eerie introduction that sets up some of the character that will be explored in the following movement called The Garden Party. This Allegro energico movement is a meshing of the original haunting mood that, for the most part, seems oblivious to the more aggressive piano and double bass music below it. It is dangerous to guess what a composer has in mind with a piece, but one can imagine an eight year old kid (the oboe) seeing discord around him (piano and bass) and attempting to sort it out as his consciousness floats above it in confusion and innocence.
The Evening Blues starts with a three-four vamp for the piano and bass over which the English horn again plays a drawn out melody with instruction to play in no relation to the time established by the others. In the second section of the movement, the bass joins the English horn in canon that precludes a violent "development" before returning to the calm vamp and questing melody. A sense of cohesion between the instruments is finally reached in the last movement, It's Too Late for Love, which begins with a free jazz inspired introduction before ending with a gorgeous ballad where the piano primarily accompanies the melody playing English horn while the bass alternates between supportive bass-line material and lyrical melodic playing. After enjoying this lush tune, a hint of the discord found in the previous movements is heard in the final measures tying the piece together with a remembrance of happened before. Although Proto asks in his liner notes, ". . . I wonder: in nearly half a century, where have we come as a people? Why is it we still can't get past this madness concerning the color of a person's skin?..Why is there so much unadulterated hatred in the air?" Despite this thought, the piece seems to end on a fairly optimistic note.
The recording itself is beautiful. The sounds of the oboe, piano and double bass are blended wonderfully together, and the bass in particular is not only played well, but also recorded with a full, rich sound that does not cross the line into muddiness. In general the ensemble is extremely tight (when it is supposed to be). The piece is published as a piano part/score, double bass part and oboe/English horn part. Because the oboe/English horn is usually either playing music with little relation rhythmically to what the bass and piano are doing, or is being accompanied by these instruments, there are cues only when the oboe is resting and needs an indication of when to come back in. For the double bass part there is generous indication printed on another staff of the piano part, which is invaluable, because the piano and bass parts are closely entwined for the majority of the piece.
The Creatures in Room 642 (trumpet, double bass and percussion) is to be performed with dramatic narrative done by the performers or by a separate narrator. This fifteen-minute piece explores the room and inhabitants of the place you go when "you're causing too many problems in your regular class" and is both humorous and engaging, particularly with the talents of Jessica Walter (daughter of the late, beloved David Walter), who does a vivid narration. The piece was commissioned by the Dayton Symphony Orchestra for their Young People's In-School Program.
The audience is introduced to the room with a brief text that describes what the room is explains that the audience will be observing Room 642 as though through a one-way glass, "seeing" with their ears rather than their eyes. This sets up a premise that this piece is more "music" than it is "theater". The speaking part is intermittent and creates the spark that allows the music to tell the greater bulk of the story.
Each of the five movements tells the story of a different person or thing that spends time in the room. The first is The Room, which starts with soft, intermittent music being played as the audience listens outside the room. As the door opens, we hear chaotic playing and yelling and are told: "I warned you that there could be some nut-cakes here". The next movement is Miss Slick, who is the toughest, most feared teacher in the school, and is in charge of Room 642 today. Her music alternates between a Jaws-inspired theme and a jazz waltz. Depicted as a beautiful "perfect" girl who may not be as happy as she looks, Lindsey is the subject of the third movement. She is given a mournful melody that is handed off between double bass and the trumpet while marimba plays rolled chords underneath. The fourth movement deals with the non-human inhabitants of the room who are creatures who have "four, six, eight or maybe twelve legs". This music is alternately fragmented, slithery and somewhat creepy. The last movement is a G minor funk blues that describes Carlo who is the coolest kid in school with an extra, extra, extra, extra large t-shirt and two Armani earrings. The piece ends with a coda that thanks the listeners.
Like Ghost in Machine, this piece is also printed to order with the score sold separately from the parts. There are four parts printed, one for each instrumentalist and one for the optional narrator. In all of the instrumental parts there is enough information about what the other parts are doing that, while certainly helpful, a group could conceivable perform this piece without the score. Like the parts for Ghost, this is music printing at its best with quality taking precedence over economy. The parts are clearly printed and easy to read, even with all of the cues and extra staves. There are no page turn problems in any of the parts.
This would be a wonderful addition to an in-school program. It is entertaining without being condescending, and young people (of any age!) would enjoy the musical portrayals of Room 642 and the different creatures that spend time there. There are two issues that an interested group of performers will have to keep in mind before choosing this work to play. The first is that this is not an easy piece to put together. It is rhythmically complex and will need to be rehearsed rather than thrown together. Second, the speaking part (whether done by the instrumentalists or a separate actor) needs to be done with, as Proto writes, "Šconviction and panacheŠyou've got to let it all hang out!"
Four Rogues: A Mystery for Double Bass and Piano
"There are many rogues among us. Some do more mischief than genuine destruction. The four individuals portrayed here, admired by many - at least in the present time - have managed to generate more havoc in their disciplines and professions than most. They are true charlatans. Find the key and you will learn both the identity and some other details about my rogues. The clues are all before your eyes and if you're really mindful, yours ears too."
Discovering the identity of these four characters may be more difficult than you think, but the piece is enjoyable nonetheless. The music is four movements with an Introduction and Epilogue acting as bookends. The composition is "modern" and "serious" in nature, and closer in style to his Four Scenes after Picasso or The Death of Desdemona than his Carmen Fantasy. Ponticello, col legno, glissandi and other "Twenty-Century" techniques are used throughout the piece. There is a nice build up of intensity in the piece towards the energetically chaotic Rogue No. 4, which is gently, although mysteriously, released in the Epilogue.
Lessons (For Solo Double Bass)
Lessons, which is published in A Family Album - Book 3: the Walter Family is dedicated to David Walter who was Proto's teacher at the Manhattan School of Music. Proto states: "Walter encouraged us to dig beneath the surface, to look for the underlying meaning, and, above all, to ask questionsŠGoing off on long tangents was frequently the cause of a lesson stretching on an extra hour or so." The two parts that make up Lessons are each tangents based on musical themes that Proto studied with Walter: Beethoven's Recitative from Symphony No. 9, and the third movement of Symphony No. 5. The music makes sparse, though recognizable, use of the themes from these sources and has a searching, exploratory character that honors Walter's favorite, probing query, "Why?"
Proto has embraced and merged any number of musical styles to create his own, unique voice and has become one of the most significant all-time contributors to the double bass solo literature. In addition to that, he is playing the double bass on this recording wonderfully and musically both in the context of a chamber musician and soloist with a full, rich sound and superb intonation. All of this, and the fact that he is surrounding himself with top-notch artists who communicate their own commitment to the music, make this recording a memorable musical journey.
Sandor Ostlund
Bassworld
Back to Feature Presentation
---

Red Mark Records CD 9222
Chamber Works 4 features music by Frank Proto published and recorded between 1989 and 2004. Silken-toned Christopher Philpotts of the Cincinnati Symphony is the all-important oboe/cor anglais player on this recording of Three Episodes from Ghost in Machine. Proto's The Creatures In Room 642 benefits from the considerable talents of actress Jessica Walter. As the daughter of the late David Walter, she is held in great affection by bassists the world over, but remembered less fondly as the psycho one-night-stand from hell in the 1970s classic film Play Misty for Me. In Creatures, commissioned for an in-school project, she vividly portrays the humour and horrors of detention class.
Four Rogues is the oldest work, a musical portrait of four well-known but unnamed dubious characters, framed by prologue and epilogue. Over 20 minutes in length, this 'mystery' for bass and piano is musically and technically challenging, which may partly explain why Proto recorded some sections in 1992 and the rest in 2001. Proto's mastery of the instrument, his shaping of phrases and use of colour give invaluable insight into the music, even if you can't discern the target individuals.
Finally, Lessons is a musical reminiscence of bass lessons at the Manhattan School of Music with David Walter. Unlike the audition factory approach taken by many conservatories, studies with David were about learning to ask the right questions, to look beyond the printed page to the meanings within. Such a tangential approach influenced lives, and usually resulted in lessons running over. Proto applies that spirit of searching curiosity to two of Walter's favourite excerpts of orchestral repertoire; the scherzo of the Fifth Symphony and recitative of the Ninth serve as starting points for an exploration of style and idea.
All of Chamber Works 4's eclectic content is well-recorded, and displays superlative musicianship from all involved.
Iain Crawford
Double Bassist
Back to Feature Presentation